Originally posted on: July 19, 2015
___
Living in China the past few weeks has allowed me to see how very similar people around the world are. It has also allowed me to greatly respect the differences we share. Buddhism is the central religion in China and the devotion that is shown is inspiring. This past week some colleagues and I were fortunate enough to visit one of the largest Buddhist temples in China, the Linjing Temple – which translates to the Temple of Soul's Retreat. It has been around since 300AD and is still going strong as an active monastery. There is a wonderful story that dates back to the Eastern Jin Dynasty where a man, traveling through the forests of China came upon this area and was amazed by the natural beauty he saw. He felt it must be the location of the immortals and began construction of the temple immediately.
Leading up to the temple was the most intricate and beautiful carvings in and around a small grotto. They date back to the 10th century, during the Song Dynasty.
The Happy Buddha below is one of the more famous sculptures in this particular grotto. His relaxed pose and beaming smile evoke happiness in everyone who sees him.
Upon entering the temple the smell of incense wafted through the air. Each person who enters is given three sticks of incense to burn as an offering during their visit. We deposited our sticks in three different locations.
The first building we entered was the Hall of Medicine. This is the hall where the monks gather to study traditional Buddhist medical practices.
My breath was absolutely taken away as I entered the building. As you enter your eyes are drawn to the large, two story high statue in the center. This particular Buddha is known as the Medicine Buddha as he has vowed to help the sick obtain enlightenment. Check out the photo below, which really does not do the experience justice.
Our next stop was the main hall of the temple. In this temple resides the largest wooden indoor statue in the country. The grand Buddha is easily 4-5 stories high and is surrounded by 20 large heavenly guardian statues for protection. It was a remarkable work of art and religion and something I will never forget.
Our final stop in the temple was to see yet another happy Buddha, this one golden. He was placed at the main entrance to the temple, which was currently closed to do renovations. His face showed pure happiness and was nothing short of inspiring.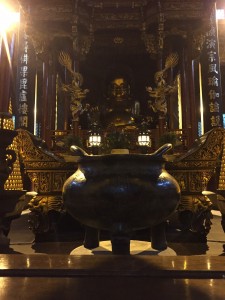 Visiting the Lingyin Temple was yet another bucket list check off. I really need to create an actual bucket list with everything I am accomplishing on this trip!
Perhaps the most bizarre moment of this day, however, came later as we sought shelter in a nearby KFC (yes, KFC…) to wait out a rainstorm. We entered the fully packed restaurant and began ordering. Before we knew it, we were being bombarded by Chinese tourists who wanted their photo taken with us, particularly our friend Katie, who was wearing a cowboy hat. It was the most surreal experience of my life. I felt like a movie star being bombarded by paparazzi. About 20 photos later, we were left to enjoy our Western fast food in peace. What a day…