Originally posted on July 28, 2015
___
It's so nice to have some time to sit and write! The past two days in Nanjing have been non stop. I'm definitely starting to wear down from all of the travels this week, and the 100°+ heat isn't helping, but the energy of exploring a new city keeps me going! Nanjing is an amazing city. It has the feel of a more modern city when compared to Beijing even though it dates back thousands of years. It actually used to be the capital of China and has an enormous amount of history. Parts of the original wall built to surround and protect the town still remain, although the city has expanded far beyond those limits.
For this leg of our travels we had a new tour guide who was knowledgeable, but was clearly not used to American tour groups. His mastery of English was still a work in progress, luckily he was quite content letting us explore the sites around Nanjing at our own pace. Also, I can't say that we didn't have a little fun at his expense as well….how could we resist! :/
Overall this was an amazing city with breathtaking sites. Below are photos of some of the things I saw over the past two days….enjoy!
As soon as we arrived in Nanjing, we took a bus immediately to the presidential palace, which is where the president resided and worked when Nanjing was the capital. This series of buildings were relatively new, designed and built over the last 100 years, but still quite remarkable to see. They continued traditional Chinese architecture throughout, making for a beautiful and tranquil location.
After the presidential palace we had a quick stop at the outer wall of the city, but then were loaded back onto the bus to visit the famous shopping district of the city. It was a quaint series of streets with both stands and established stores. I found the most wonderful bookends here. They are a dachshund! The front half of the dog is on one bookend and the back half is on the other. Clearly they have nothing to do with China, but how could I pass something like that up!? As you walk up to the street, you are greeted by the archway below. We all know the arch in Philly's Chinatown as a great photo spot, but in China they are not a big deal at all. You see archways like this all over cities. I, however, still think they are pretty remarkable and worth photographing
Today was a very memorable day. We started by visiting a bridge that was built in 1999, which…was exactly as exciting as it sounds. After this debacle, though, we had some wonderfully memorable experiences. First, we went to Turtle Lake. This large lake is known for it's healthy population of turtles, which are viewed as good luck in China. This beautiful park had a lot to do, but some other teachers and I opted for an open air boat ride! We pulled out of that dock, slammed on the gas, and went flying off into the distance at about 3 mph. The boat could almost move as quickly as we walked! It was an absolutely beautiful ride, though, and offered us lots of laughs and good photo opportunities. A wonderful experience!
After our leisurely boat ride at Turtle Lake, we took the bus over to a National Park. Not just an park, though, this park contained a very sacred monument. The mausoleum of Dr. Sun Yet Sen, the George Washington of China. He was an extremely progressive political who helped establish "New China" by being a part of the revolution to end the Chinese dynasties. He is greatly respected in Chinese culture and it was an hour to visit his burial site.
To end our stay in Nanjing, we went out in search of a taste of home….Western food! After checking out some reviews, we came across Jimmy's Sports Bar. What a place! The second you step inside you forgot you were in China. The menu was completely American and everything was so good. I can officially say I have eaten a "Philly Cheesesteak Sub" in China….and it wasn't bad either!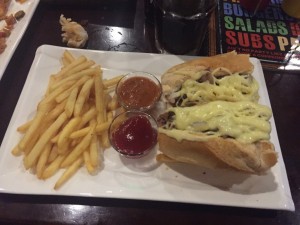 Overall this city offered up so many memories and so many fun travel stories for us all to tell in the future. Tomorrow we are off to Shanghai for the last leg our of tour. While I am beyond excited to visit and experience one of the worlds greatest cities, I am sad my time in China is coming to an end. Stay tuned for another post on Friday. I will have plenty of time to write during my long journey home!