Originally posted on: July 23, 2015
___
What an amazing two weeks. Today was our final class with the Chinese students and my final day as a high school ELL teacher. My coteacher Katie and I were both amazed at how well our lessons went. The two weeks seemed to flow so smoothly and everything came full circle in the end.
As I said in a previous post, we were teaching the many biomes of the United States. Introducing new learning strategies to the students was quite interesting. They seemed perplexed by the idea of compiling online research on computers during class time. Technology is not typically used for student learning in China. In fact one of the days I watched a Chinese teacher rip a cell phone out of a student's hand during break time. They take their education very seriously and, because of that, do not want the distractions of the internet to cloud the minds of the students during school hours. During our day of research, though, they did a wonderful job and were able to fill in the entire organizer we had provided.
The research wasn't the fun part, though. After they had their information, I introduced to them the concept of claymation, which was more difficult than I thought because they had no idea who Gumby or Wallace and Grommet are! They were immediately intrigued, even more so once they found out they would be creating their own claymation video to explain four different biomes in the US. After consulting with some of our Chinese teacher hosts, Katie and I learned that this type of project would be completely new to the students. They are used to projects, but they typically include posters and not much more, so the idea of creating a film in class was novel and exotic to the kids.
After carrying home five buckets of play doh from Wal Mart and downloading the Stop Motion Studio app on everyones iPad, our project was ready to begin. For the backgrounds I had the students use their 3D biome tents from a previous lesson since they had already colored and designed them to match each of the four biomes.
After forming groups and handing out materials, the creativity immediately began to flow. I was absolutely amazed at the way students designed each of their animals. One group even found a way to have a bird fly by sticking pencil lead in it and holding it up in the air. It was very inspiring. Obviously not all students are able to learn by strict lecture. It was clear that this project was reaching out to many students who needed a creative outlet.
I was also astonished by the level of teamwork that I observed as they worked. In China, school is usually very independent. The work you do is to better yourself, not others. During the project I assigned roles. I was truly inspired watching some of the more apathetic students becoming engrossed in their learning.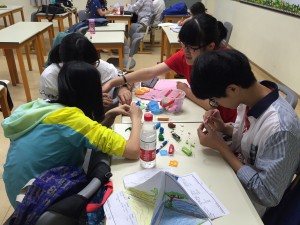 We exposed these students to a whole new side of education, showing them how exciting and creative it can be. I think I can honestly say this was the best project I have ever done with students. I will be finding a way to incorporate claymation into my second grade classroom next year! Check out a couple of the finished products below!
Overall, it was a bitter sweet day. I am sad to leave the kids and the school, but tomorrow we are off to Beijing to begin our week of travel 😀